Creating Sub-Accounts
As a CAT user, you have the option to create an unlimited number of "sub-accounts" for your coders and project managers. To create a sub-account, click on the "Account" drop-down menu and select "Manage Sub-Accounts". On the Manage Sub-Accounts page, click on the "Add Sub-Account" link. Complete the required fields and select either "Regular" or "Expert" from the drop-down menu.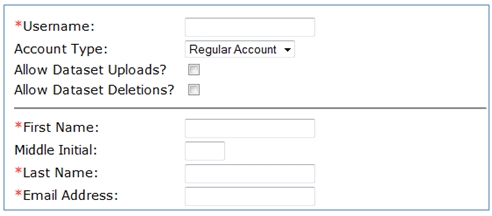 Regular sub-account holders can only code data that has been assigned by the primary account holder
Expert sub-account holders can manage coding projects. Use the check boxes to give expert sub-account holders the ability to upload or delete datasets
Once you create a sub-account, the owner of the account will receive an email from the system asking them to confirm the account acknowledge the privacy statement. Once their account is activated, you will see the sub-account holder on your available coders list.
---